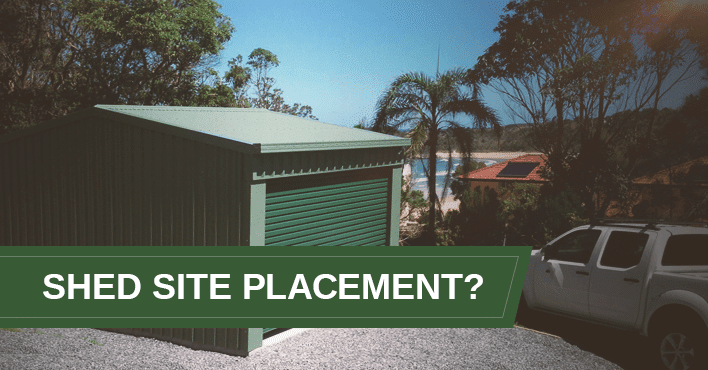 I'm guessing you want to build a shed that will last a long time. And if that's the case, if you don't choose the best site placement for your shed, you may be looking at the consequences for a long time to come!
Here are 10 of the most important factors to consider when choosing your shed site:
Turning circle: Be sure to position your shed with enough room for vehicles to easily enter the doorways.  If you're looking to store boats, caravans or trailers etc., then the turning circle has to be wider still.
Slope: Concrete slabs and footings may cost more on steep slopes, and may affect ease of moving vehicles and other items in or out.
Access angles: If the slab is level and the driveway up to the doors is steep (either up or down) the door height will need to be increased for clearance. If the change of angle (between the driveway and slab) is too great it may cause vehicles to scrape on the ground. This is especially important for vehicles with a low ground clearance.

For this matter, you also need to consider the

door design

.

View: Consider what your new shed will look like from all angles. Ask yourself; will it block any views (for you or your neighbors)? You might also want to show off your new shed by ensuring that your shed has the same color as your other property or building a pathway from your house. Not only will it look nice, but surely adding value to your property.
Council regulations:

Make sure that you read the details of your

shed permit

.

As well as council zoning and intended use for your shed,

you will need to be aware of council requirements,

including distance to boundaries and easements, and regulations regarding bushfire prone land and exemptions.

You might also want to consider the distance of your shed to the nearest property or fence, and potential placement stipulations. Please refer to your local

council's approval for the shed

.

Utilities: It is better safe than sorry. Make sure that your shed is not built on top of buried power lines, pipelines or utilities. Therefore, call your local before digging and

building your shed

.

Access to property: This is particularly important when building your shed. Is there easy access for a crane, scissor lift, generator and room around the shed for scaffolding? A cramped or inaccessible shed site can create building headaches.
Avoid water collection points: Points like the bottom of a hill, low-lying area, watershed, or other areas that's occasionally wet. The moisture and humidity is the perfect place for mold and to grow and definitely damage or rot the valuable items you stored in your shed. 
Sun light: Depending on the purpose of your shed, deciding the position of the sun towards the shed is important to think about. You should make sure whether you need the sunlight or do you want to minimize it. 
Security: If you want to store valuable assets in your shed, consider building it in a location that's visible from your house. Do not forget to put security lighting and locks to protect it. It is also a good idea to build a shed without windows to keep intruders peeking inside and get in from it.
In addition to the council regulations, each state could have different rules and restrictions for each individual to build their buildings such as bushfire management overlay, the purpose use, the size, ancillary to a dwelling located on the land, etc.
With our unique TRIPLE guarantee on PRICE, DESIGN and SUPPLY, we are different from the other shed designers online out there. When we get together with a client on the phone for a Free Shed Design and Quote Session, we always locate the intended site with the aid of Google Earth, and are able to help you choose the ideal site for your shed. The above 10 tips will help.
While you're here, why not download free…

"The Ultimate Shed Design Guide"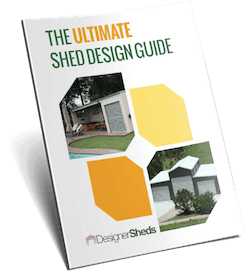 Get Free, Proven Tips To Save Time, Money and Stress When Planning Any Shed Project.