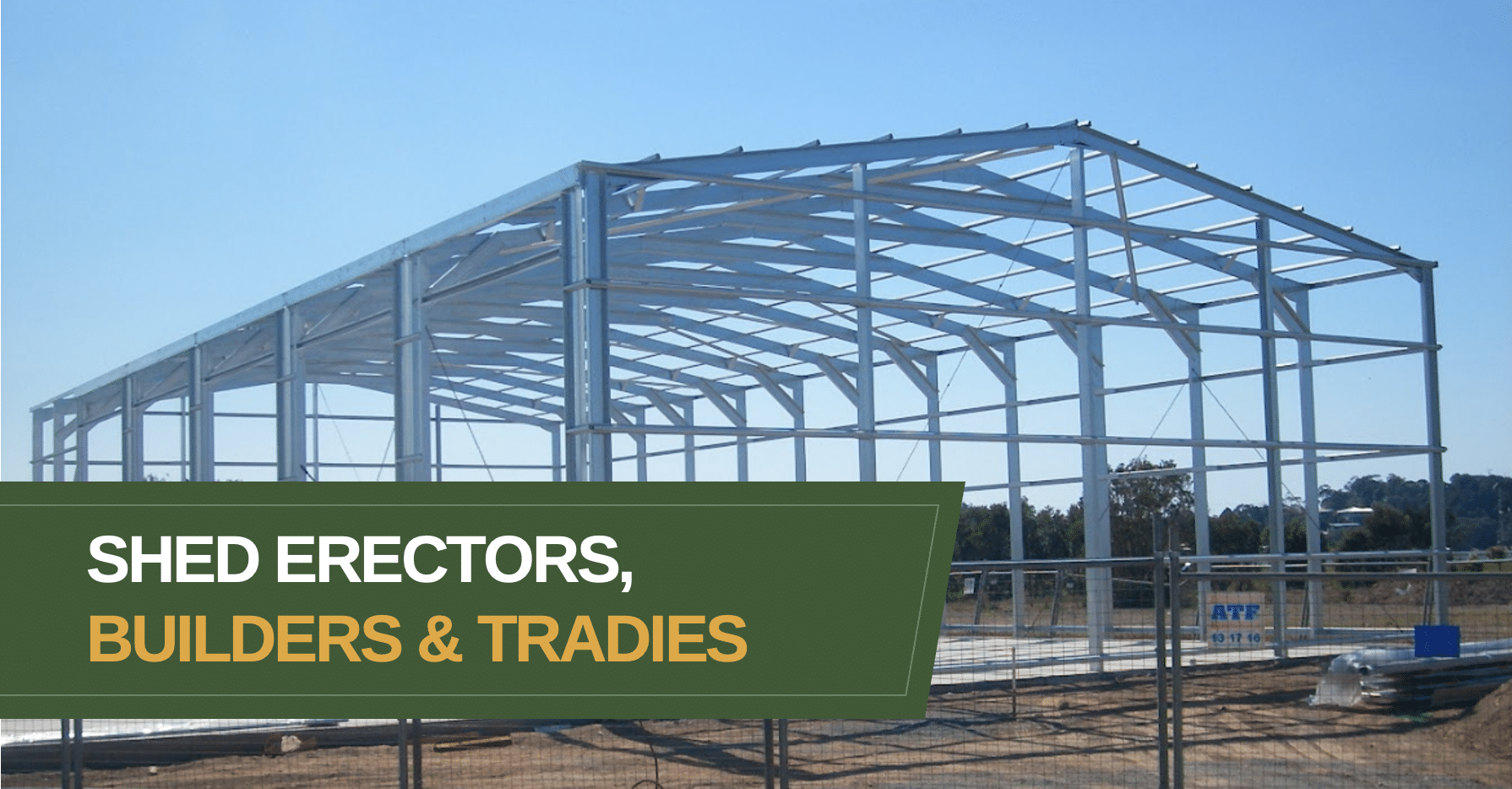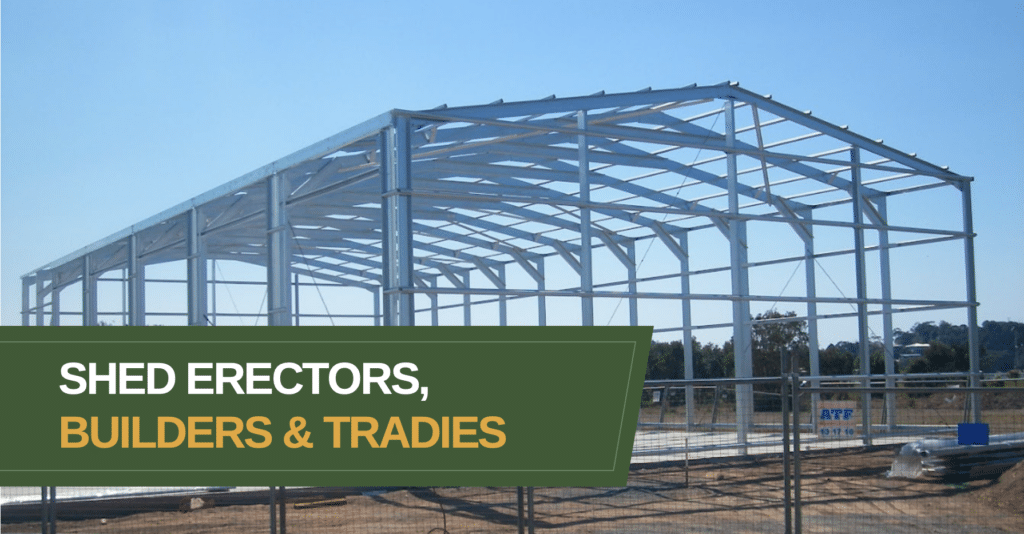 Shed Erectors & Builders
At Designer Sheds, we specialise in manufacturing custom steel sheds to your exact width, depth and height requirements.
We deliver custom sheds anywhere in Australia for no more than the cost of a stock-standard shed from most other shed companies.
Over the past 22 years we have custom designed, manufactured and successfully supplied more than 7,249 sheds.
While we don't have a building arm ourselves, we do have a large, national network of shed erectors and tradies who we can put you in touch with.
Building & Erecting Your Custom Shed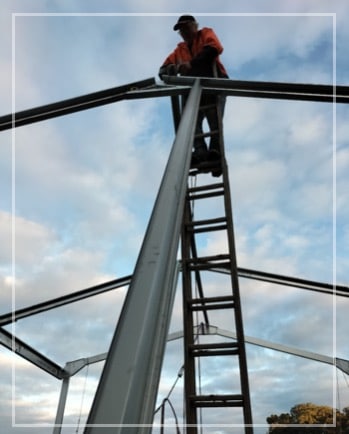 When building your custom shed, we recommend engaging a qualified builder or shed erector.
Our proprietary designs are so simple any builder can usually erect your shed with ease.
Some customers with the necessary skills even choose to build their own shed. You can read about their experiences here.
If you're considering this option, we recommend discussing this with your Designer Sheds Shedologist™ during the design process. They can give you a realistic insight into what's involved and whether it's appropriate for your situation.
Simple Designs For Simple Construction
Unlike kit sheds that often have missing pieces or complicated additions (a bit like a jigsaw) your Designer Sheds shed comes with the exact parts you need (no more, no less). And our designs have been simplified over the years to make the construction process as hassle-free as possible.
We also provide engineering manuals and videos to ensure the process is as smooth as possible.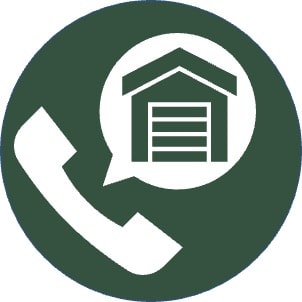 Shed Advice Hotline
We offer a Shed Advice Hotline for customers who are in the process of building their shed, so if your concreter or shed erector has any technical questions, help is just a phone call away.
Before You Engage A Shed Builder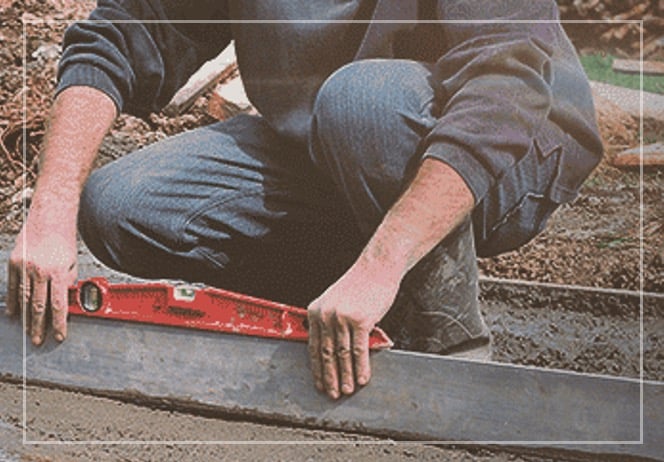 Don't Lay Your Concrete Slab In Advance!
Before even thinking about forming or pouring your concrete slab, we STRONGLY recommend that you finalise your shed design first.
Design Your Shed & Arrange A Firm Quote
Before you engage a shed builder, you need to decide what type of shed you want to build. Our Free Design & Quote Session is the easy way to transform your rough idea into a final, detailed design, including a fixed-price quote. During the session, we can…
Advise on what other features customers with similar needs to you have used to get a great result.
Highlight any risk factors or other issues to be aware of before your design is finalised.
Get all the info we need to provide you with an exact, fixed price quote to manufacture and deliver your shed.
Translate your design specifications or ideas into a finished shed design.
There is no charge for the session and no obligation to proceed with the design. It will consist of the best shed design expertise we're able to provide.
Arrange Council Approval
These days, council approval is nearly always required when you want to build a shed.
We help customers navigate this process every day. And we would be glad to help you as well.
(Here's an in depth walkthrough of the Council Approval Process for Sheds.)
When you're ready to start the process, we can help draw up your Preliminary Design. To do so, simply request a Free Design & Quote.
We'll email you your preliminary shed plans, suitable for your Preliminary Discussion with council.
Once your design is finalised, all you have to do is pay a 10% deposit on your shed kit and we'll supply all the final plans and engineering documents you'll need for your Formal Application.
At any stage along the way, if you need to tweak your design, we'll be happy to do that for you – at no cost.
Shed Erection Costs & Quote
We're happy to help you choose a suitable builder. Thanks to our connections in the industry we are usually able to source one or more builders for you to contact for quotes.
We have a national directory of more than 260 tradies specialising in shed construction. While the final decision is up to you, we'll help out wherever we can to point you in the right direction.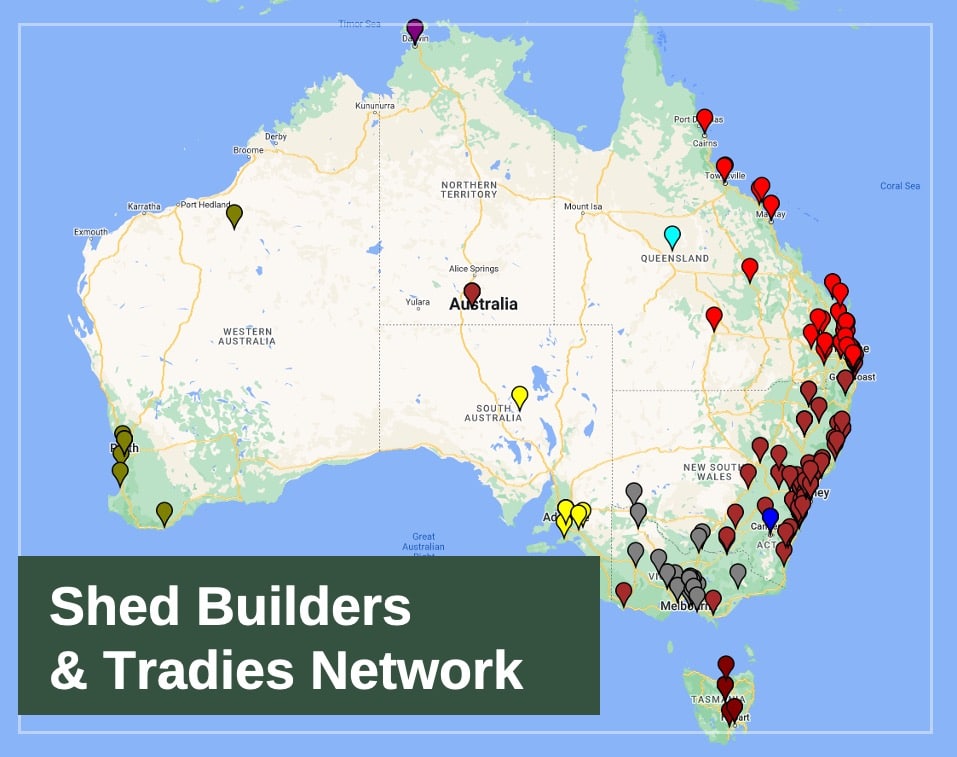 How To Choose A Shed Builder
When looking to hire a shed builder, it's important to choose a reliable and reputable company. Here are some tips to help you make the right decision:
Choose a Company that Will Do the Work
Some companies use multiple domain names to capture more business. This can make it difficult to know which company will actually do the work. When booking your job, make sure to ask if the company you're booking through is the one that will show up on the day.

Verify License and Insurance
Always choose a shed builder who is fully insured and is a member of a reputable building association.

Research the Company
Check the company's history, experience, and references. Consider factors such as how long they've been in business, whether they employ their own people or subcontractors, and if they've worked on similar sheds projects in the past. Read online reviews and ask for references.

Don't Base Your Decision Solely on Price
Low prices can be enticing, but don't be fooled into thinking you're getting a great deal. Look for transparent pricing and a company with a good history of customer service. Consider whether the company offers assurances like guarantees and if they can do the job when you need it done.

Check Online Reviews and Word-of-Mouth Recommendations
Use Google reviews and social media to find out what others are saying about the company. Don't rely solely on reviews posted on the company's website, which may only show positive feedback. Ask friends and family for recommendations.
Other Trades
Need some help finding suitable tradies to help with your custom shed project? Contact us and we'd be glad to help. We have a directory of more than 250 builders, concreters, electricians and plasterers Australia wide.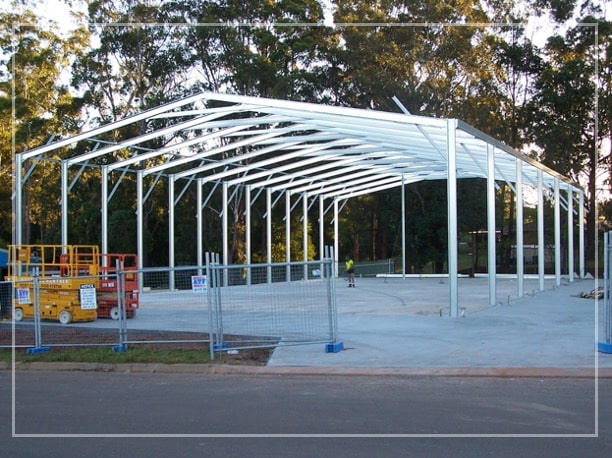 Join Our Network Of Professional Shed Builders
Are you a skilled shed erector or tradie? We are actively seeking reliable and experienced shed builders across the country to refer Designer Sheds customers to.
Besides exceptional workmanship, our biggest requirement is that you treat our customers with the same level of care and attention that we provide.
If you're interested in working with us, please don't hesitate to contact us today.
Conclusions & Next Steps
Need some help finding a shed builder or shed erector for your custom shed project? We can help.
If you want to find out more about the shed design process, feel free to download our Ultimate Shed Design Guide.
Or if you'd like some 1-on-1 help, request a free Shed Design & Quote with one of our expert Shedologists.
If you have any more questions about sheds or shed builders, get in touch and we'll be happy to help.