CUSTOM BOAT SHEDS, DELIVERED AUSTRALIA WIDE
 Made To Fit The Exact Dimensions Of Your Boat & Gear, For No More Than The Cost Of A Standard Boat Shed!
The Problem With Buying A Boat Shed "Off The Shelf"
Boats come in all shapes and sizes. (And of course, we love them all!)
However, most suppliers offer only a narrow range of standard shed sizes. That's because certain sizes suit their manufacturing process. But they may not match the exact dimensions to suit your boat.
So while a steel shed may be the most durable and cost-effective way to keep your shed out of the elements when you're not on the water, finding the right shed used to be easier said than done.
Thankfully, things have changed. Now you can have a boat shed manufactured to your exact requirements – that costs no more than a standard, off-the-shelf shed!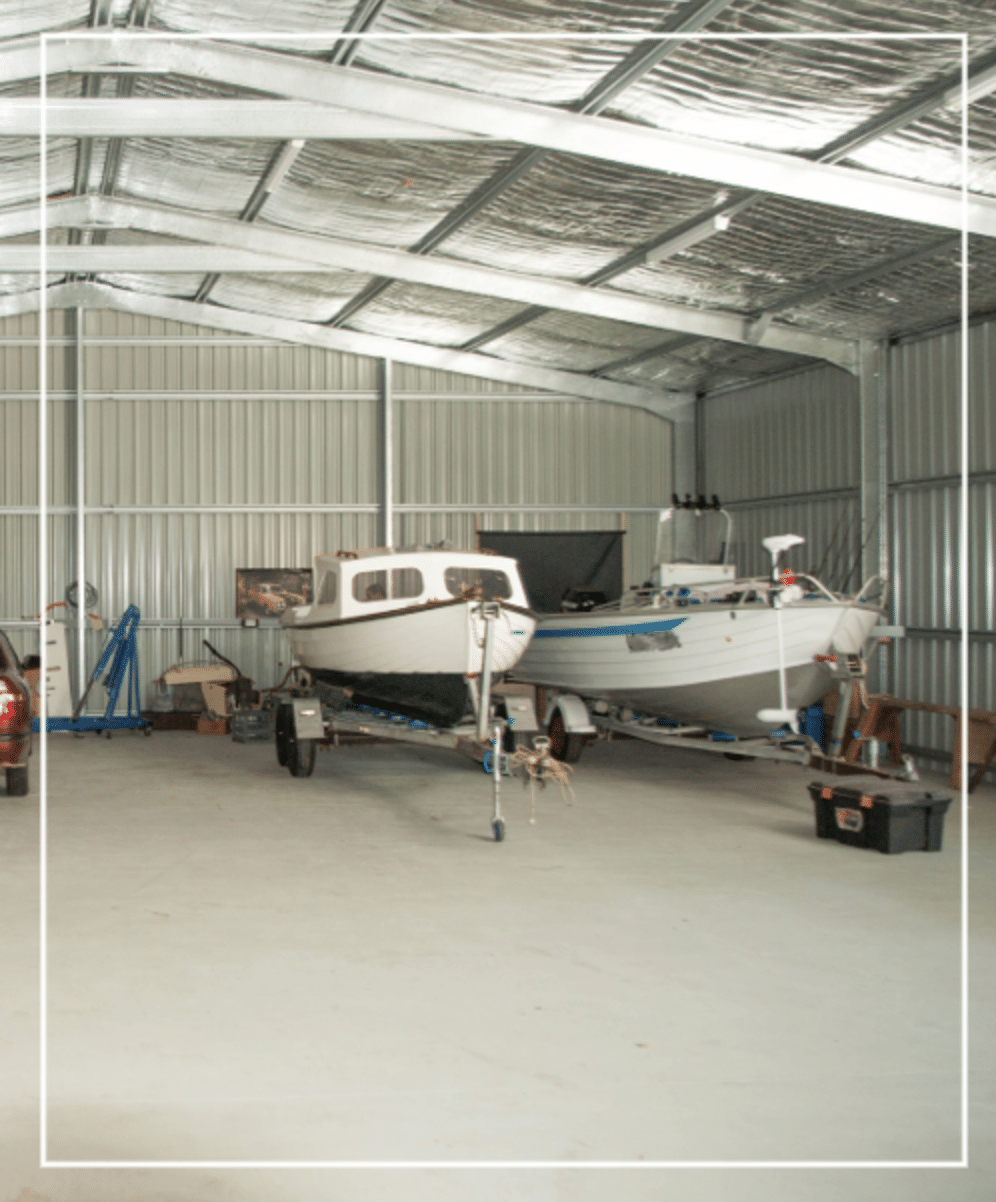 Our sheds are made to fit your boat and equipment – for no more than the cost of a stock-standard shed.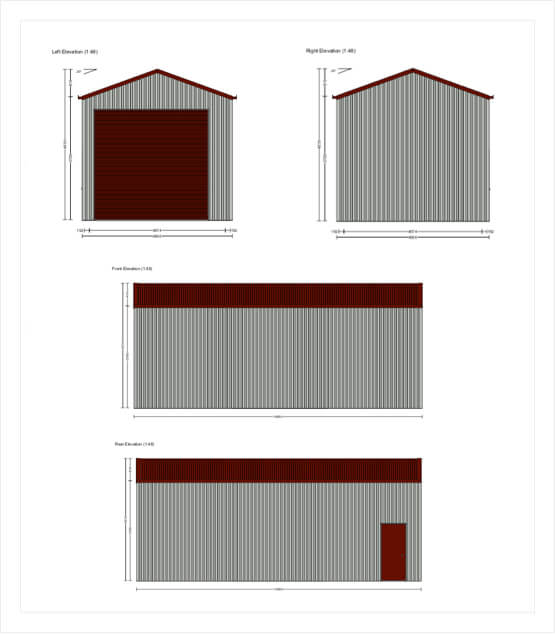 All the plans you need will be ready for you by the end of your Free Design and Quote Session.
Reinventing The Boat Shed
With over two decades of experience in the shed manufacturing game, Designer Sheds has perfected a steel kit manufacturing process that offers boat shed builders the best of all worlds:
Flexible engineering that allows you to customise the width, depth and height of your shed right down to the millimetre, and only pay for the change in materials – not the customisation.
A rock-solid supply process that guarantees that your Bill of Materials will be 100% correct.
Free boat shed design expertise to ensure you get the best possible shed that meets your needs exactly.
In short, we help you get the shed your really want, not just the one you're told you can have, with a minimum of fuss and at a great price!
While you're here, why not download free…

"The Ultimate Shed Design Guide"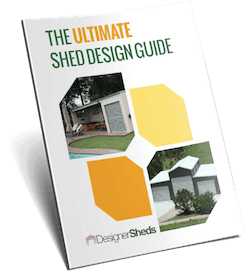 Get Free, Proven Tips To Save Time, Money and Stress When Planning Any Shed Project.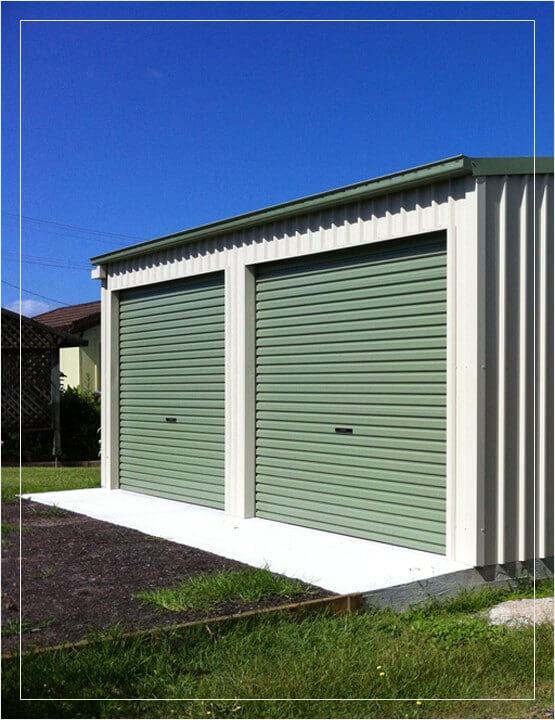 Choose Your Shed Features To Suit
Your Designer Shed offers you maximum functionality, while enhancing the value of your property because you are free to choose from…
28 COLORBOND colours (to complement the roof on your home or surrounding buildings)
2 steel cladding profiles
2 gutter profiles (to match the gutters on surrounding buildings)
5 roof pitches
Decades of collective experience (check out our boat shed design tips)
Custom door height, width and placement (or no doors at all)
Windows, roof vents, insulation and personal access doors (for extra light, ventilation, year-round comfort and easy access)
Flexible bay sizes for single, double, triple, quadruple or even larger storage requirements
Roller doors with manual drive, chain drive or motors and remotes.
Select From A Wide Range Of COLORBONDⓇ Colours
COLORBONDⓇ is Australia's most trusted name in coloured steel. We supply only genuine ZINCALUMEⓇ and COLORBONDⓇ steel. You can from the following colours, with the option to choose different colours for different areas of your new shed (e.g. walls, doors, roof, flashings):
CLASSIC
colour range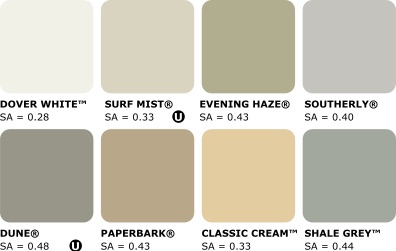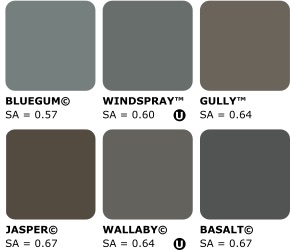 CONTEMPORARY
colour range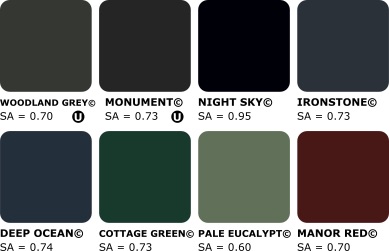 Even More Quality Features For Your New Boat Shed
Edges:

While some manufacturers of steel sheds leave metal edges exposed, we roll our edges and add flashing so there is no untidy or sharp metal to cause cuts injuries

Gutters:

Many shed companies attach their gutters using a basic screw through the back of the gutter. We use robust gutter brackets to prevent your gutters flexing and overflowing during heavy rain.

Framing:

And while other kit shed companies use lighter gauge frames for partitions and ends (which makes it almost impossible to extend or modify in the future), your Designer Shed utilises full-strength frames throughout for maximum strength.
100% Australian Steel: While some shed companies use flimsy and unproven imported steel, we use only tried and true BlueScope steel. It's been holding up sheds around Australia for decades. And it's backed by a solid, local warranty.
Rust-resistant Screws:

Your shed is only as strong as its weakest component. In many cases, that's the screws. Do you know how to tell if a shed has cheap screws? More often than not, they are the sheds you see being blown away in a cyclone on the TV news. That's why we only use stronger, rust-resistant Buildex screws.

Independent certification:

Have you heard the saying: "It's only as good as the paper it's written on"? Nothing could be truer when it comes to engineering certification for your new shed. Many shed companies have in-house engineers who simply rubber-stamp everything they design. However, our designs are rigorously scrutinised and independently certified by cyclone specialist engineers. So you know they are built to last.
Every Boat Shed We Sell Is Backed By
Our Unique Triple Guarantee
No fine print: our guarantees are simple.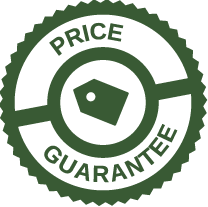 Price Guarantee:
We guarantee to provide you with an exact price quote based on any design you choose, correct as of time of quoting. Due to the fluctuating price of steel, your price is locked in once you are paid in full.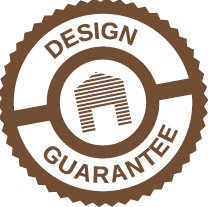 Design Guarantee:
We guarantee your shed will exactly match the design you've approved or we'll fix it or re-supply for free.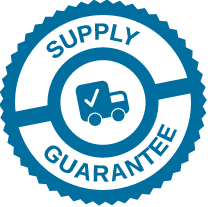 Supply Guarantee:
We guarantee your Bill of Materials will be 100% correct for the shed you ordered. If we miss something out of the Bill of Materials or get a component wrong, we'll make it right straight away AND give you $500. In addition, if any component is missing from the initial delivery due to a mistake in the shipping process, we guarantee everything will be delivered as soon as possible, at our cost.
Request Your Free Shed Design & Quote Session Now
The quickest and easiest way to get a firm design and price for your new shed is to request a Free Shed Design & Quote Session.We'll usually spend 10 to 20 minutes on a live screen sharing session, where we design your dream shed right in front of your eyes.
At the conclusion of the session, we'll provide you with your finished shed design, plus a firm price quote to have your new shed kit manufactured and delivered, anywhere in Australia.
There is no charge for the session and no obligation. Simply click below to enquire and book in a time for your free Shed Design & Quote Session.