Choosing a company to supply your perfect shed can be a daunting task. So we think it's important for you to hear what other people have said about working with us. Here are some of the reviews we've received from satisfied customers…

I Didn't Have To Meet Up With Anyone, I Didn't Have To Take Hours Off Work, And The Result Was Fantastic. Honestly, I Enjoyed This!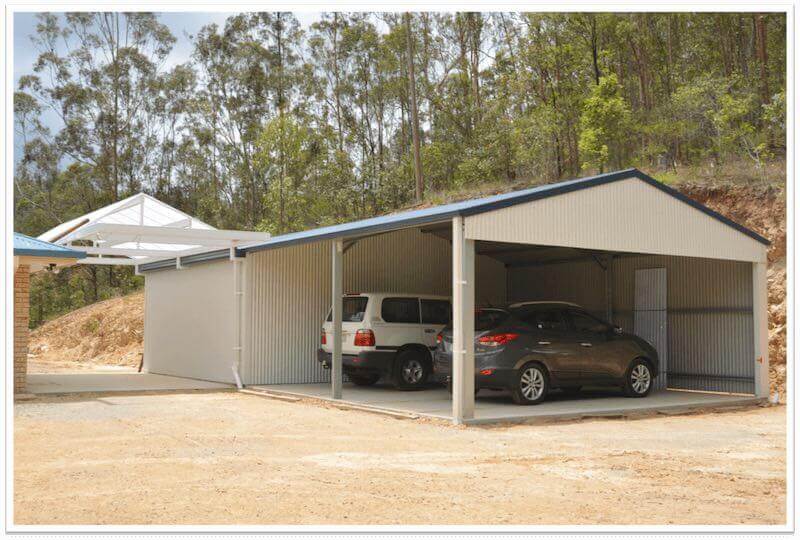 "Truthfully, I did not think this was going to be an easy project.
We wanted two carports and a shed (21×7 metres) with the third carport (5 x 7 metres) adjoining the shed at a right angle. The tricky part was always going to be making it look like one structure rather than three pieces stuck together.
There weren't any shed companies – and I assure you that we actually rang around a lot – that seemed to understand what I was trying to do. Designer Sheds was different.
I liked Designer Sheds because the blueprint was done online, while I was sitting in my office. I couldn't believe it. When I first rang Jason, he mirrored my property on Google Maps, and in the space of five minutes he was able to reflect the optimal shape and size of the integrated shed/carports idea. So interactive and so easy.
At the time I remember thinking, these guys REALLY know their stuff. They've been there, done that. And from that point forward I was exceedingly comfortable with the process.
After I signed up I received all technical drawings for Council submission, and shortly thereafter I received all the construction parts, so stress-free. There were no hassles and the few questions I had along the way were very minor (e.g. colour of the gutter downpipes) that were promptly responded and attended to.
I've been working with some significant renovations on the house, which has meant dealing with a lot of suppliers and tradies, and hiccups were continually expected. But that was not the case with Designer Sheds. The guy that laid the pad looked at the detailed plans and said, "Oh, yeah, this is easy" and that was that, done. The two-man team that erected the structure asked no questions, merely came on site and erected all over three days. One would reasonably expect that there would be some setbacks, e.g. some spans or beams that wouldn't properly fit, or something. Nothing! Everything installed like a charm.
I really enjoyed the whole process. I didn't have to meet up with anyone at home, I didn't have to take hours off work, I didn't have to answer about anything, and the result was fantastic. Honestly, I enjoyed this. Thank you Designer Sheds for your professionalism."
Gianni Sperotto
Pullenvale, QLD

Thank You All For Helping Me Design The Shed Of My Dreams!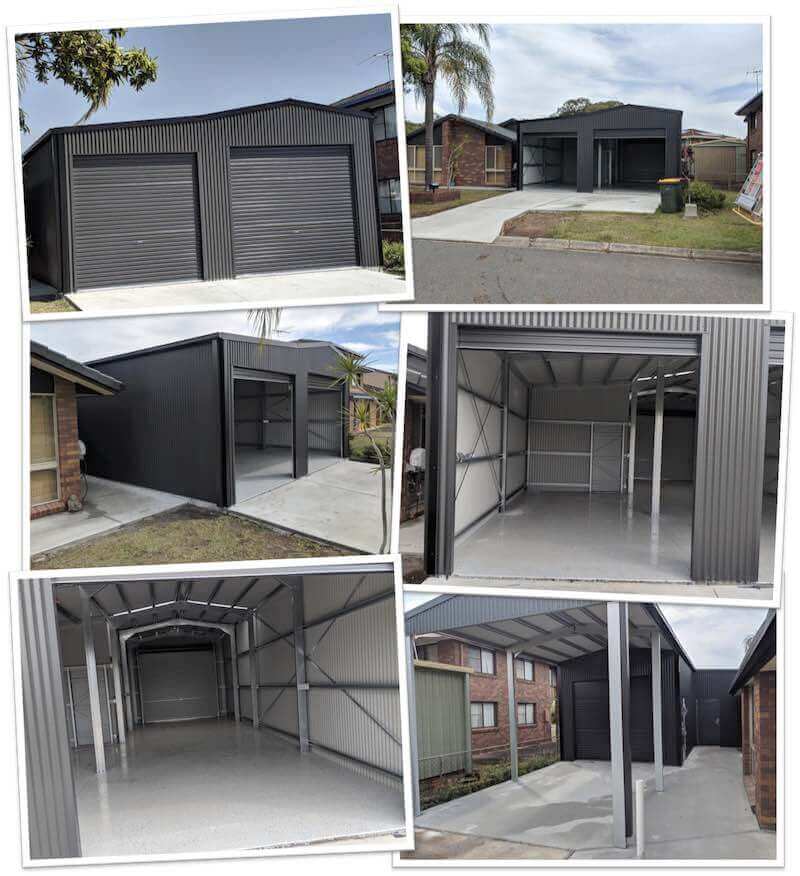 "I would like to thank you all for helping me design the shed of my dreams. I have finally managed to get it built and I am so pleased with results.
I needed to build an L-shaped shed because the area in my yard didn't lend itself to a traditional box or rectangular shed. And I wanted to fit two cars, a camping trailer and workshop into the space. I hunted around a bit with companies like Stratco, True Steel and stuff like that but none of them really wanted to assist in customising outside of their designs.
I contacted Jason and we spoke about what I wanted and what Designer Sheds could deliver. He was very helpful in providing ideas for how we could achieve what I needed to make the shed that I wanted. I was pretty stoked about that.
The other bit that I liked was that if it didn't get through the council stage, the deposit I paid could be refunded and Designer Sheds would work with me to try and meet those council requirements. If there was anything that needed adjusting, Jason was more than helpful to make sure that it got done. (I even believe the council did me a favour by insisting that the back 6M of the sheds be a carport and not enclosing it!)
Thank you all for all the work you have done to get my shed project over the line."
Eddie Melling
Nudgee, QLD

The Shed Erector Was Very Complimentary About The Gauge Of Materials Used, The Sizing Accuracy And The Price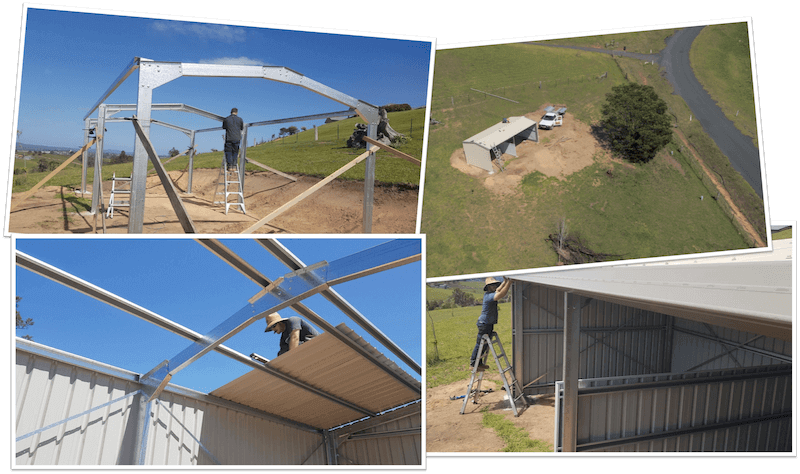 "We built a double horse paddock shelter. The shed was delivered correctly, on-time and all the components were there.
Previously we were given a quote from another company, then when it was time to get started, they doubled the price, which was out of the question.
We decided to go with Designer Sheds because I couldn't find any pre-packaged sheds from the standard builders that did what we wanted. Unlike most of the skillion-roof sheds around here, we went for a pitched roof on your recommendation.
The standard sizing for most out-of-the-box sheds was 3.6, which just wasn't going to be big enough. We have two large hunter-style horses and we wanted to make sure they had plenty of room to move around. Especially if there was bad weather and we'd need to be in there with the horses.
When we started looking around, we researched three companies. Construction, price and delivery time were all important. Designer Sheds came out slightly cheaper. But the main reason we went with you is because I liked the construction and build quality a lot more based on what I could see on the internet.
My initial conversations with the team throughout the design phase were very good indeed. We went into a lot of detail around what I wanted it for and the kinds of conditions it would need to withstand. Once we finished the order, the follow up was excellent. I was always kept in the loop as to when a certain activity was about to happen.
The whole customer service aspect was very good. Even once I had the materials, I appreciated the check-in calls to see if I had started assembly and if I needed any help.
It made me feel very comfortable that even though it's being shipped to me from somewhere else in Australia, I knew exactly what was happening and when it would arrive.
We were very happy with the quality on delivery. The local shed erector who worked with me was very complimentary about the gauge of materials used, the sizing accuracy and the price. He now has your name for future reference.
It's been on the to-do list for a long time. I'm glad to have it done and I'm glad I did it with Designer Sheds."
Raymond Toms
Coopers Gully, NSW

Jason Helped Me Work Out What I REALLY Wanted And What I Could Do
"I wanted a space where I could setup my workshop and muck around with my cars. When I started looking for a shed company, I pretty well went through every manufacturer online as well as checking out the ones you see advertised on TV.
Some of the prices were lower than Designer Sheds, but the quality was mostly pretty ordinary and the reviews weren't so great. I felt like I had a pretty good idea of what I wanted in my mind. I found that most places would only do a standard 6 x 9 or 9 x 9.
When I started talking to your shed designer Jason, he asked me, "what do you REALLY want?". I told him that I needed space for a couple of car bays, a hoist, some storage and room to setup my workshop. We decided an 8 x 10 would be perfect for what I wanted. We also decided to go a bit higher to get some extra room for the hoist. And I added a lean-to that I could keep the caravan under.
Designer Sheds seemed to be the only one that could do what I wanted done.
If I had of just done what I was originally planning to do, I would have got an ordinary 9 x 9 shed and probably would have been "happy-ish" with that.  But you helped me work out what I REALLY wanted and what I could do. As a result I ended up with a much better shed."
Jim Walsh
Horton, QLD

You Can Just Tell It's Made Better Than The Others We Looked At
"I was helping a mate design and build his Designer Sheds shed. His block is on a big angle, so pretty early on we decided that we wanted a two-level slab. That way we could make the most of the space we had available.
I had a look at some other companies, but they only had stock-standard sheds. That would have meant buying two separate sheds and trying to find a way to join them and put the door where we wanted. Designer Sheds made it easy to custom-design a shed with a step down from scratch.
The guys knew exactly what I wanted from the start. Then they helped me bring it to life. We could put the door where we liked and get everything exactly how we wanted. I even changed it one or two times after pouring the slab.
The other companies just gave you the shed. With Designer Sheds we ended up going with all the ridgey-didge features like windows and insulation. The custom design meant that we could have the storage area at the lowest point and have the garage at the back at the right level, without fussing around with retaining walls.
Now it's done, it looks awesome. You can tell it's well built. You can just tell it's made better than the others we looked at."
Stephen Sheiles
Glenbrook, NSW

It's the Taj Mahal of Sheds!
Prior to dealing with Designer Sheds, I had some experience with the small garden variety, like you buy from your hardware store, and also a bigger shed of approximately 10m x 15m that I played a part in putting together.
So when I came to build my latest shed, I looked on the Internet at a number of shed companies, but Designer Sheds was the only one that would allow me to build a shed to my specifications.
The delivery process was as smooth as glass. And it fit on my slab perfectly. The end result is perfect. I couldn't have done better with the space I had and the money that I had available. "
Clem Tunnell
Currumbin Waters, QLD

My Designer Shed Has Already Survived A Cyclone!
I first heard of Designer Sheds on the internet. The beauty of their model is that I could design exactly what I wanted, how I wanted it.
 My shed has been up now for about 9 months and it's already been through a cyclone and come out good as new, so you could say it's doing alright!
There are lots of shed companies around but Designer Sheds let you design everything for your needs."
Steve Gillooly
Brunswick Heads, NSW

Extremely Happy With The End Result!
This is the first shed I've built. I knew what I wanted to achieve, but also that the shed I wanted was a bit different from the standard shed designs you see around.
 My shed consultant was able to come up with a design that suited me and we went back and forth to make all the pieces work. Now it's up and it's come out really well. I'm extremely happy with the end result!"
Greg Splatt
Grantville, VIC

I Call It My Heaven On Earth!
As someone who has had no experience building a shed before, I was a bit nervous about the process because there were so many things I didn't know.
 During the design stage, if there was anything I didn't know or didn't understand, it was so easy to call and have someone talk me through it.
At one stage, the council asked for extra engineering documents and the guys were more than happy to provide them to me within 24 hours.
 The end result is amazing. I call it my heaven on earth. And in fact we were able to get the end result for less than 1/3 the cost of other solutions.
Thank you so much – I wouldn't hesitate to do it again."
Frances Helfenbaum
Daylesford, VIC

I Get To Enjoy Equestrian All Year Round!
I've got four horses on my property and I wanted an area that was protected from the sun and the rain so I could spend time training them.
The guys worked with me to plan out a fully customised horse arena design at the best possible price.
Now I can spend more time outside with my horses, particularly in the summer time. Thanks!"
Heather W
(Surname withheld for privacy)

I Waited And Waited On Other Shed Companies…
I waited and waited on other shed companies for weeks to give me engineers detailed plans. But with Designer Sheds, I paid my deposit, and within a matter of minutes, I had all the engineer's details in my hands, ready to go to council.
I didn't even need their manual and I put it up in two days myself, finished and everything. Even the guy from the Council commented when he visited how nice it looked."
Gerald Troy
NSW

We Were Up And Away In No Time
We wanted a shed big enough to fit our caravan and all our gear in. We shopped around not just based on price, but on quality and ease of setting up.
Others were complicated to erect, having to cast in bolts to the concrete, but you guys designed it in a way easy the way that was so simple we were up and away in no time."
Peter Marshall
Midge Point, QLD

I Wish I Could Fit Another Beside It!
I already had a boat that needed an extra high clearance, and I'd just bought a new Landcruiser as well, so I needed a shed big enough to house it all.
I only had limited space between the house and the boundary, so I needed something custom designed to fit snugly in between.  I managed to get the perfect shed for the space."
Craig Cooper
NSW

A Truly Purpose-Built Shed
We got quotes from other places, but we chose Designer Sheds in the end because only they could give us a truly 'purpose built' shed.
We've now got a separate boat showroom and workshop with a driveway through the middle, so our customers can drive up in their trailer and load and unload, all while being undercover! Then they can drive right though and away without having to do any reversing."
Karen
Coffs Harbour, NSW

I Saw One Of Your Sheds And Just Had To Have One Too
I saw my dream shed with an awning and a spa underneath the guys had built for someone else, and thought that's exactly what I'm after!
That made my decision for me. I got in contact with Designer Sheds and they were so good to deal with.
My consultant was really helpful and the whole process from phoning up to the shed being delivered was just smooth. "
Jason Geiberras
Wattle Glen, VIC