The Disappointing Truth About Many Farm Sheds…
And How You Can Get a Reliable, Purpose-Built Farm Shed For Around the Same Price as a Stock-Standard Kit Shed
Years ago, when people on the land wanted somewhere to store their tractor and tools, they'd get a big ol' farm shed – strong, no-fuss, built to last.
But as people in 'the big smoke' started wanting sheds for their backyards, manufacturers began making them out of flimsy, imported steel and cheap screws to get the cost down.
Then they standardised the sizes and offered them in kits.
And now it seems there's a million companies selling cheap kit sheds all over Australia, including bush areas, and passing them off as 'farm sheds'.
The problem is, every time a big wind comes through, it peels the rooves and sides off these sheds like a banana.
At least a residential backyard shed has the protection of hundreds of houses all around it, shielding it from strong winds. But on the land, farm sheds sit in the middle of flat paddocks, completely exposed.
If you want your shed to last, it needs to be tough. Like farm sheds used to be.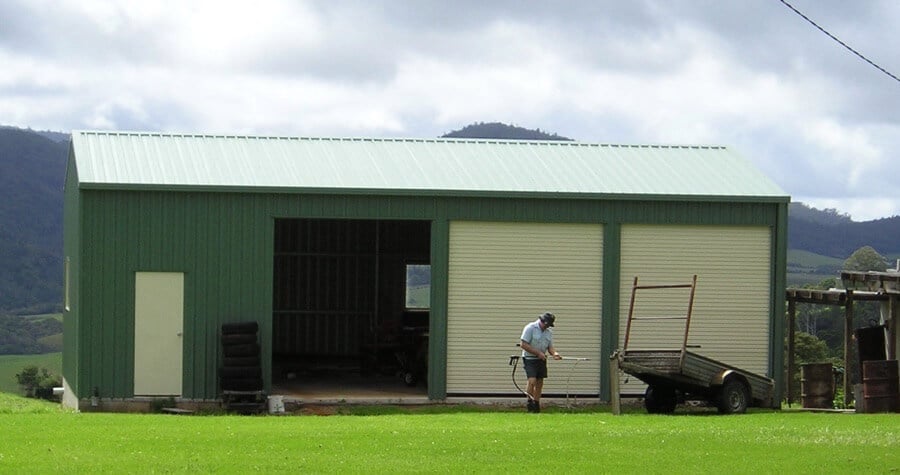 A Different Approach…
Here at Designer Sheds we do things differently. Call us old fashioned but we like to use materials that are proven. Like reliable BlueScope steel – it's been holding up sheds in the bush for decades. And Colourbond – another time-tested Australian product with a solid local warranty.
And while other companies cut corners on seemingly little things like screws (where they can make extra money because a big shed has thousands of screws) we refuse to compromise.
Cheap screws rust. And when a big wind comes, the heads break off. This is why so many sheds lose their rooves and cladding during storms. And it's why we use rust-resistant Buildex screws. They are as strong and reliable as your old Toyota ute.
The Farm Shed You Really Want…
The other problem with stock-standard kit sheds is you have to take what you're given (size, height, width, length – all standard). And if you want to make any changes, take out your wallet.
Customising a kit shed can be expensive because it usually entails adding kits together and then cutting things to the size that suits.
Once again, we do things differently. You Designer Sheds farm shed is designed and manufactured from scratch to your exact specifications.
A little extra width – easy
A larger door for easier access – done
Add a little height to the door so your tractor has plenty of clearance – no problem
It's the Small Things that Matter…
You know, doors that actually open without a crowbar (and are high and wide enough to get your equipment in and out quickly and easily). Gutters big enough and attached with robust brackets (not merely screwed) to take the water away without overflowing or falling off. And most importantly, proper bracing so your shed stands strong in summer storms.
You wouldn't think you'd have to ask your shed supplier about these things. But unfortunately, the truth is pretty disappointing.
More Than Words…
We've found that some big-city companies like to hide behind fine print. They even invent so-called industry associations and accreditations to make them sound all proper.
We prefer to do business the old-fashioned way – we tell the truth and we keep our promises.
Like the way we double check your farm shed design will stand the test of time. While some farm shed companies have engineers on staff to simply rubber-stamp their designs, we think that is a dangerous conflict of interest. So we send our designs to independent engineers who specialise in cyclone structures. Once they certify your design you can be sure it's passed a set of rigorous tests and more than meets Australian standards.
And then there are our guarantees – simple, straight forward, triple protection…
Price: We guarantee to give you an exact fixed price for the design you choose and as long as you order within 14 days you won't pay a single dollar more to have that design manufactured and supplied to your property.
Design: We guarantee your shed will exactly match the design you've approved or we'll fix it or re-supply for free.
Supply: We guarantee that the Bill of Materials for your shed will be 100% correct for the shed you ordered. If we miss something out of the Bill of Materials or get a component wrong, we'll make it right straight away AND give you $500.  In addition, if any component is missing from the initial delivery due to a mistake in the shipping process, we guarantee everything will be delivered as soon as possible, at our cost.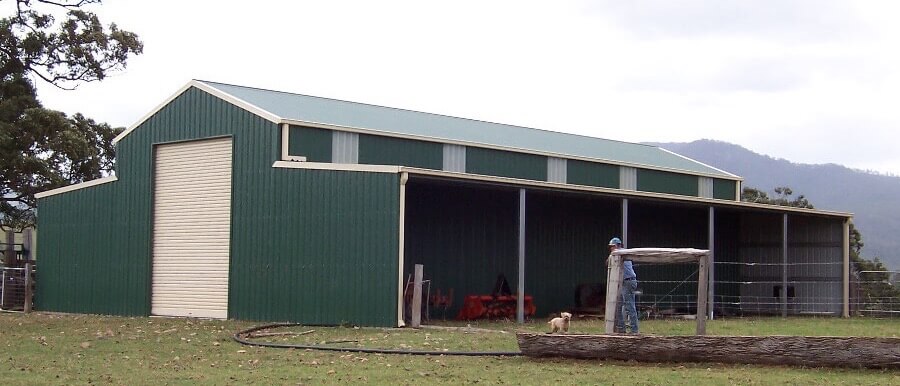 So don't put up with a standard kit shed that doesn't give you the size and features you want. And don't waste your money on cheap materials that rust, break and fly away in the first storm.
Call Designer Sheds and get a reliable, purpose-built farm shed for around the same price as a stock-standard kit shed. Your tractor and equipment deserve it. Your farm deserves it. And you deserve it.
To get the farm shed you really want, arrange a Free Design & Quote Session today.
Or for more helpful tips and design advice, download a copy of our Free Shed Design Guide.