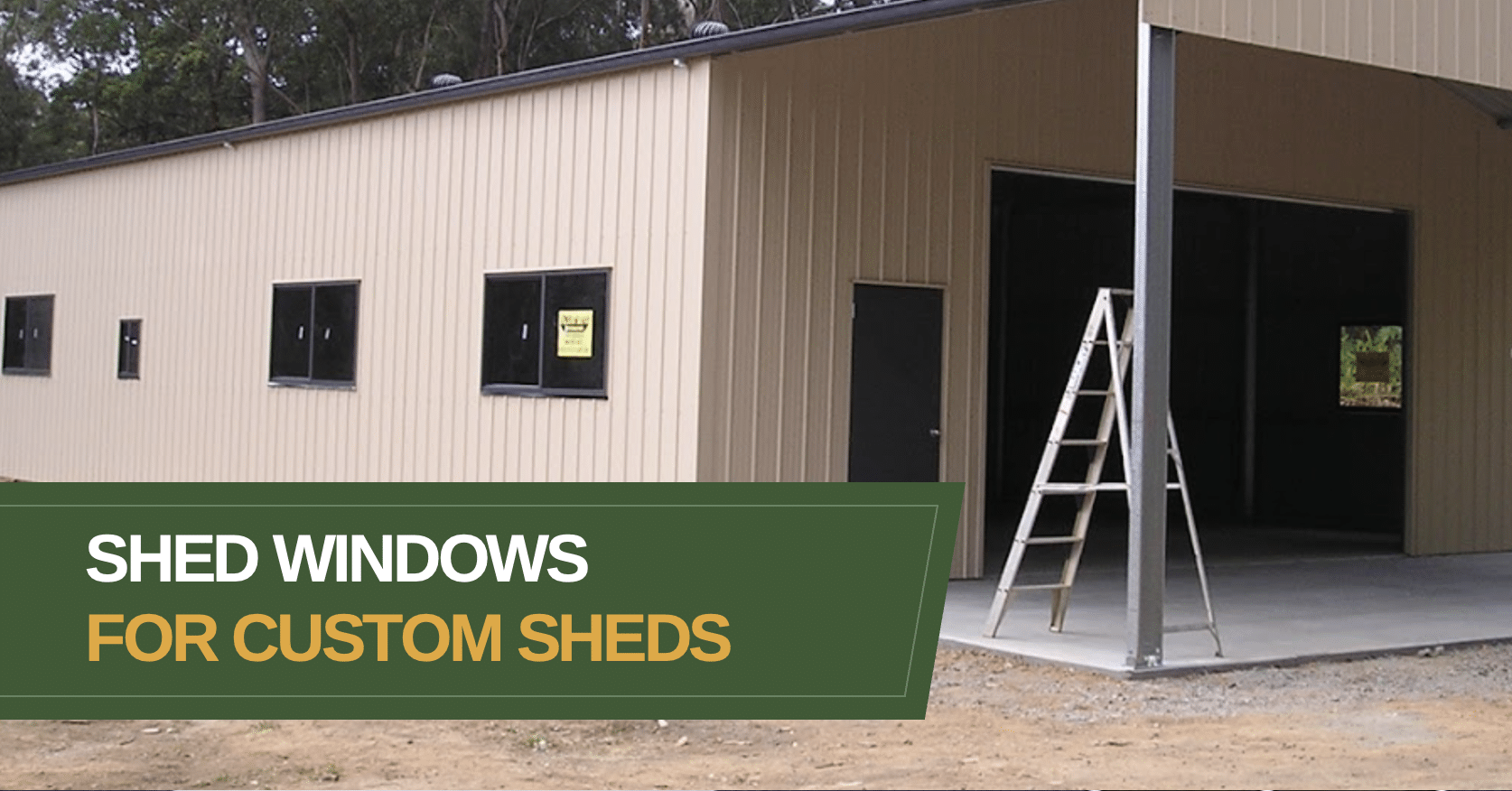 It's important to consider windows when designing a custom-built shed.
The type, size and placement of windows will have far-reaching ramifications for the design, fitout and daily-use of your shed.
The right windows can provide natural light, improved airflow, reduced energy consumption and enhanced the appearance. A well-placed window can open up new workspaces and storage areas and greatly improve the utilisation of your shed.
Equally, the wrong windows (or lack thereof) can limit what you can do inside your shed, how much time you want to spend inside your shed, and even affect its safety and security.
This article provides an overview of the advantages of shed windows and offers tips on selecting the right materials, designing and installing the windows, and keeping them in tip-top shape.
Benefits of Shed Windows
Windows offer several benefits, including:
Natural light: Windows allow sunlight to enter the shed, creating a more pleasant and comfortable environment while reducing the need for artificial lighting.

Aesthetics: Shed windows enhance the appearance of the structure by adding character and visual interest. They also provide a garden view and create a more spacious feel on the inside.

Comfort: Well-designed shed windows allow natural light to enter without excessive heat. They also improve airflow and ventilation, preventing the growth of mould and mildew. We recommend them as an alternative to skylights. Unlike windows, skylights eventually craze or go mouldy over time, diminishing what light they can allow and are very difficult to clean, or cannot be cleaned at all.

Property value: A shed with carefully placed windows adds curb appeal and value to the property, making it more attractive to potential buyers.
Types of Shed Windows
The three most common types of shed windows are:
Aluminum windows: Durable and low-maintenance, aluminum windows are a popular choice due to their longevity and ease of care. In 99% of instances, we recommend sliding aluminium windows with clear or frosted glass. Occasionally customers choose louvres, but they're considerably more expensive.

Vinyl windows: Cheaper than aluminum, but can warp over time when exposed to the elements.

Wooden windows: Wooden shed windows offer insulation and visual appeal but are more susceptible to damage and require replacement sooner than other materials.
It's also worth considering flyscreens and security mesh.
Need some help deciding which option is best? Schedule A Free Design And Quote Session today – our Shedologists can advise what features customers with similar needs to you have used to get a great result.
Design and Installation Tips to Consider
When designing and installing shed windows, keep the following tips in mind:
Security: Shed windows should provide an added layer of protection for expensive equipment, so consider options like locks and security screens.

Glass: Choose the right glass for your shed windows based on factors like privacy needs, tinting, and fire rating requirements.

Louvres: Louvred windows offer improved light and airflow but may not be as secure or cost-effective as traditional sliding aluminum windows.

Fire rating: Some sheds require fire-rated windows, so consult with the manufacturer and consider a bushfire assessment level (BAL) rating.
Shedologist's Tip: Visualise Your Layout & Contents

When designing custom sheds, we encourage customers to think about how they're going to layout their workspaces and contents before they get started.

This allows them to place their windows to suit their exact requirements, rather than working around pre-cut windows in a stock-standard design.

If you're planning on having multiple workspaces or internal walls, a well-placed window is worth its weight in gold.
Beware: some shed suppliers will cut corners when adding windows.
We see a lot that provide no framework or flashings. They simply cut the sheeting, push the window in the hole and fix it with a few screws. Naturally, it looks terrible and will leak water when it rains!
We provide support for each side of the window to run from the girt below to the one above. We also supply a flashing either side, as well as a J flashing above the window to hide the cut edge of the sheet and water proofing.
This is more secure, more water tight, and looks much better.
Maintenance Tips for Shed Windows
To ensure that your shed windows last as long as possible, follow these maintenance tips:
Clean the windows once a year or as needed as part of your shed's annual cleaning routine.
Choose a local supplier to install your shed windows. That way you know that replacement glass and fittings are only a phone call away.
Fix broken or cracked glass immediately by contacting a local supplier who knows the size of your window and can complete the job quickly.
Open and close the windows as needed to optimise ventilation and natural light.
Costs of Shed Windows
The cost of shed windows depends on factors like size, the number of windows, and the type of window frame and features.
If you're considering a stock-standard shed, adding custom windows can quickly become very expensive.
When you design a custom Designer Sheds shed, the process is simple. Our Shedologists will help you add windows to your design, right down to your exact specifications.
Like your shed itself, the incremental cost of making windows bigger or smaller is nominal. Since we manufacture your shed from scratch it's all much the same on our end. We don't charge hefty premiums like other shed companies.
Conclusion
For many of us, our sheds are an escape where we can enjoy the hobbies and projects we love, so it makes sense to make yours as inviting as possible.
Would you like to spend your time in a dark, damp space where you're reliant on artificial light or constantly reaching for the torch? Or would you prefer a warm, naturally-lit space that you enjoy entering?
With the right materials, design, and installation, shed windows can enhance your shed's functionality, aesthetics, and value.
Need Some Help Designing A Custom Shed?
If you'd like some help designing a custom shed, simply get in touch for a free Shed Design & Quote Session.
Based on all the above considerations (and more), we'll design your perfect shed according to your specifications, then we'll email you the plans plus a firm price quote to have it supplied.