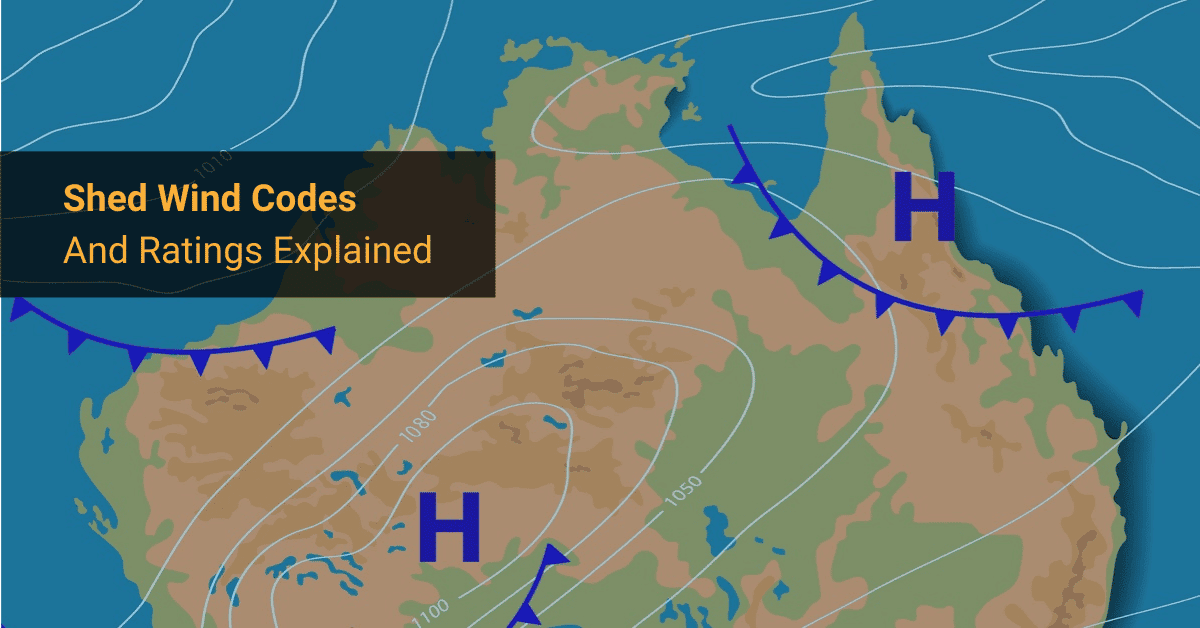 Choosing the correct wind rating (also called wind code or wind classification) for your proposed steel shed is critical.
In this article, we explain how Australian the wind code classification system works and how to ensure your shed is manufactured according to the correct wind rating.
(Of course, our shed designers have a good understanding of this. However, many shed builders find it useful to know about wind codes when you're planning your shed).
Overview: How Wind Ratings Work
In Australia, the correct wind rating is determined by a series of layered criteria, outlined below.
Ensuring the correct wind code is simply a matter of running through the process and arriving at the final answer. (Everything will make sense at the end of this article).
Factor 1: Class of Building
Classes of Building
Class 1

| | |
| --- | --- |
| Class la | A single dwelling being a detached house, or one or more attached dwellings, each being a building, separated by a fire-resisting wall, including a row house, terrace house, townhouse or villa unit. |
| Class lb | A boarding house, guest house, hostel or the like with a total area of all floors not exceeding 300m2, and where not more than 12 reside, and is not located above or below another dwelling or another Class of building other than a private garage. |

Class 2

A building containing 2 or more sole-occupancy units each being a separate dwelling.

Class 3

A residential building, other than a Class 1 or 2 building, which is a common place of long term or transient living for a number of unrelated persons Example: boarding-house, hostel, backpackers accommodation or residential part of a hotel, motel, school or detention centre.

Class 4

A dwelling in a building that is Class 5, 6, 7, 8 or 9 if it is the only dwelling in the building.

Class 5

An office building used for professional or commercial purposes, excluding buildings of Class 6, 7, 8 or 9.

Class 6

A shop or other building for the sale of goods by retail or the supply of services direct to the public Example: cafe, restaurant, kiosk, hairdressers, showroom or service station.

Class 7

| | |
| --- | --- |
| Class 7a | A building which is a car park. |
| Class 7b | A building which is for storage or display of goods or produce for sale by wholesale. |

Class 8

A laboratory, or a building in which a handicraft or process for the production, assembling, altering, repairing, packing, finishing, or cleaning of goods or produce is carried on for trade, sale or gain.

Class 9

A building of a public nature.

Class 9a

A health care building, including those parts of the building set aside as a laboratory

Class 9b

An assembly building, including a trade workshop, laboratory or the like, in a primary or secondary school, but excluding any other parts of the building that are of another class.

Class 9c

An aged care building

Class 10

A non-habitable building or structure.

Class 10a

A private garage, carport, shed or the like.

Class 10b

A structure being a fence, mast, antenna, retaining or free standing wall, swimming pool or the like.

Class 10c

A private bushfire shelter.
| | | |
| --- | --- | --- |
| Rise in storeys | Class of building 2,3,9 | Class of building 5,6,7,8 |
| 4 or more | A | A |
| 3 | A | B |
| 2 | B | C |
| 1 | C | C |
Types of construction
Note: The classification of buildings and the type of construction can vary from the standard model depicted in the tables. Concessions can be provided that change the type of construction. The concessions can relate to the design of the building, its size, and the number of escapes.
The class of building comes down to what you are going to use the building for. Then this leads to several considerations for how the building is designed and engineered.
Factor 2: Importance Level
Table B1.2a IMPORTANCE OF LEVELS OF BUILDINGS AND STRUCTURES
| | |
| --- | --- |
| Importance Level | Building Types |
| 1 | Buildings or structures presenting a low degree of hazard to life and other property in the case of failure |
| 2 | Buildings or structure not included in Importance Levels 1, 3 and 4 |
| 3 | Buildings or structures that are designed to contain a large number of people |
| 4 | Buildings or structures that are essential to post-disaster recovery or associated with hazardous facilities |
Deemed-to-Satisfy Provisions
Table B1.2b DESIGN EVENTS FOR SAFETY
Importance Level
Annual probability of exceedance
Wind
Snow
Earthquake
Non-cyclonic
Cyclonic
1
1:100
1:200
1:100
1:250
2
1:500
1:500
1:150
1:500
3
1:1000
1:1000
1:200
1:1000
4
1:2000
1:2000
1:250
1:1500
To summarise:
An example Level 1 building is a farm shed where if it blows down, no person or property will be injured or damaged Including anything attached to the roof like solar panels.
A Level 4 building would be a cyclone evacuation building with several hundred people sheltered inside. You'll notice there is still a 1 in 2000 chance the building could be damaged in a 50 year cycle, but the main criteria is that it remains standing and everyone inside is protected.
School halls will usually be Level 3 as they shelter large numbers of people, but are not designated as safety shelters.
In reality, only Class 9 buildings need an Importance level of 3 or 4.

All the sheds we make are engineered at a minimum Importance level of 2. If you require a 3 or 4 rating, we can build to that specification.
While you're here, why not download free…

"The Ultimate Shed Design Guide"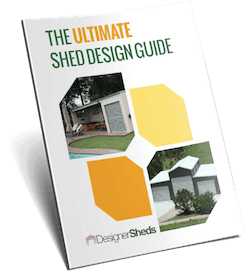 Get Free, Proven Tips To Save Time, Money and Stress When Planning Any Shed Project.

Factor 3: Regional Wind Rating
The next area to be taken into consideration is the wind rating.
Many shed companies make this extremely difficult by coming up with a separate design for every possible variation and size of shed.
We think this makes the designs too complicated for suppliers and builders. They may save a couple of hundred dollars in steel cost on occasion, but the increase in complexity isn't worth it.
To work out the regional wind rating for your area, consult the map below. If you live in a cyclonic area, you will need a cyclone-rated shed which can withstand extreme weather conditions.
Factor 4: Terrain Category
The next thing to look at is the terrain category of where the shed will be built. A shed built on a very exposed plains will be subject to higher wind than a shed nested amongst hills and trees.
To determine the correct terrain category, please see below:

CATEGORY 1 – TC1
Very exposed open terrain with few or no obstructions and enclosed limited sized water surfaces, e.g. flat, treeless, poorly grassed plains, or river, canals, lakes and enclosed bays, extending less than 10 km in the wind direction.

CATEGORY 1.5 – TC1.5
Open water surfaces subjected to shoaling waves, e.g. near-shore water, large unenclosed bays on seas and oceans, lakes and enclosed bays extending greater than 10km in the wind direction.

CATEGORY 2 – TC2
Open terrain including grassland with well-scattered obstructions having heights generally from 1.5m to 5m with no more than two obstructions per hectare, e.g. farmland and cleared subdivisions with isolated trees and uncut grass.

CATEGORY 2.5 – TC2.5
Terrain with a few trees or isolated obstructions. This category is intermediate between TC2 and TC3 and represents the terrain in developing outer urban areas with scattered houses, or large acreage development with fewer than 10 buildings per hectare.

CATEGORY 3 – TC3
Terrain with numerous closely spaced obstructions having heights generally from 3m to 10m. The minimum density of obstructions shall be at least the equivalent of 10 house-size obstructions per hectare, e.g. "suburban housing, light industrial estates".
Factor 5: Topography

Then you need to look at your topography, or the slope of the hill where your shed is located. In general, structured on steeper slopes will be subject to greater wind forces.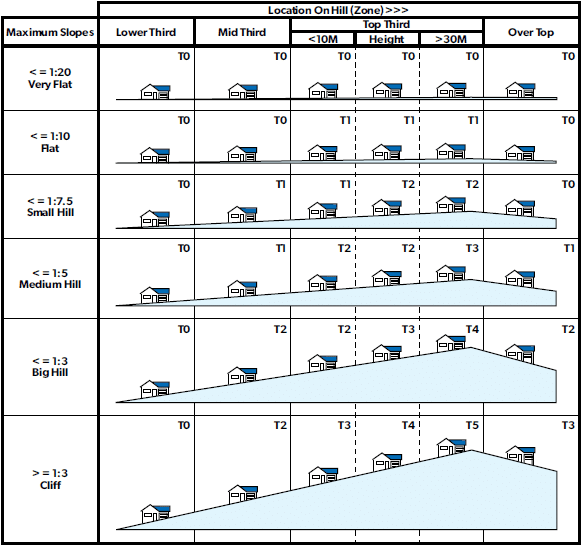 Factor 6: Shielding
And finally, you need to consider shielding. A shed surrounded by houses or other structures will be protected from the full force of the wind.

FULL SHIELDING – FS
Full shielding where at least two rows of houses or similar size permanent obstructions surround the house being considered. In Regions A & B, heavily wooded areas within 100m of site provide full shielding. The effects of roads or other open areas with less than 100m measured in any direction shall be ignored. Full shielding is for typical suburban development greater than 10 houses per hectare. The first two rows of houses abutting permanent open areas with a least dimension greater than 100m, such as parklands, large expanses of water and airfields, shall be considered to have either partial shielding or no shielding.

PARTIAL SHIELDING – PS
Partially shielded where there are a least 2.5 houses, trees or sheds per hectare such as acreage type suburban development or wooden parkland. The second row of houses are classified as partially shielded.

NO SHIELDING – NS
No shielding where there are no permanent obstructions or where there are less than 2.5 obstructions per hectare, such as the row of houses or single houses.
Putting It All Together
Once you've reviewed all the above, you can cross reference the following table to arrive at the correct wind rating or classification for your shed.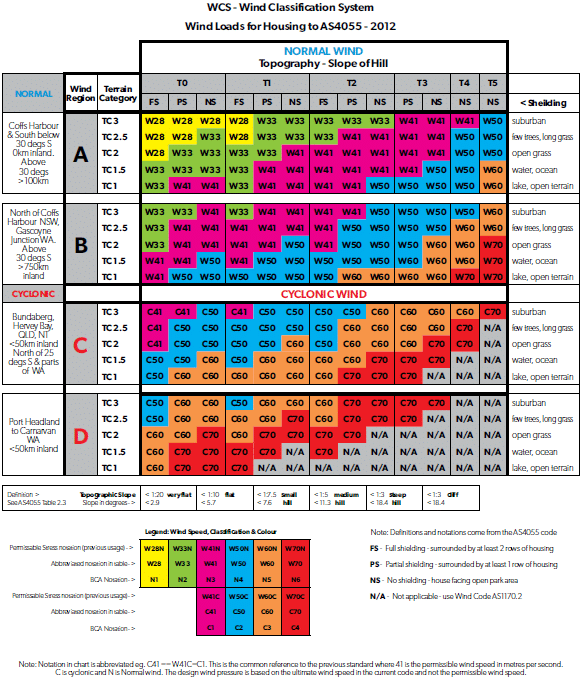 In Conclusion
Regardless of what anyone tells you about wind classifications, the body with the final say is your local council as part of the council approval process. Despite all the information you supply, many councils have a blanket wind rating they impose on the entire shire, full stop.
There is one upside: if the council determines the wind rating, they take the responsibility. If the worst happens and you get a 1 in 100-year storm event that damages your shed, there can be no arguments with your insurance company, since you have built it to the specifications supplied by the local council.
Hopefully, this article has shed some light on how shed wind codes work. If you'd like expert (and free) assistance designing your ideal shed (including selecting the correct wind code), then get in touch to arrange a free Shed Design & Quote Session.