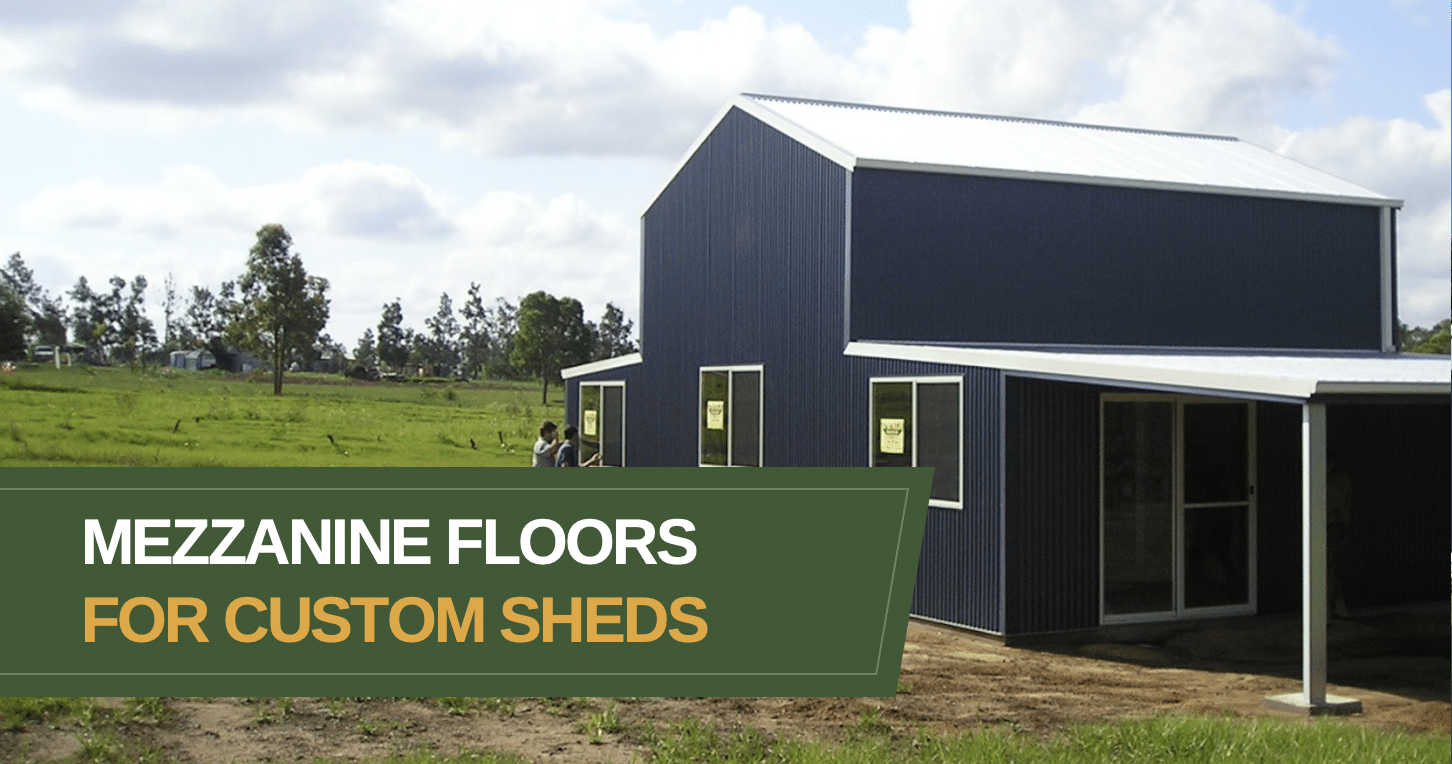 When designing your custom shed, mezzanine floors are a great way to increase your usable floor space, providing additional room for storage and work areas. In this article, we'll discuss the benefits of adding a mezzanine floor to your new custom shed, as well as some design and installation tips to keep in mind.
What is a Mezzanine Floor?
A mezzanine floor is a partial floor that is installed between the main floor and ceiling of your shed, creating additional usable space without the need to expand the shed's footprint. Mezzanine floors can be used for a variety of purposes, including additional storage, work areas, and office/recreational space.
Benefits of Adding a Mezzanine Floor to Your Custom Shed
By adding a mezzanine floor to your custom shed, you can:
Increase your usable floor space without having to expand the shed's footprint, upgrade to a larger shed, or build a second shed.
Maximise the existing vertical space in your shed, allowing for more storage, organisation, and work areas.
Improve safety by eliminating crowded spaces, reducing clutter and providing more room to move around.
Enhance your enjoyment of your shed by providing additional space and creating a more efficient and organised layout.
Mezzanine Floors Design & Installation Tips
If you're designing a new custom shed and want to include a mezzanine floor, here are some tips to keep in mind:
Include the mezzanine floor in your initial shed design. This is far more economical than trying to add it later.
Consider the placement and size of the mezzanine floor, taking into account the height of your shed and any other design elements you have in mind.
Make sure to plan for adequate lighting, both natural and electric, on the mezzanine floor.
Plan for easy access to the mezzanine floor, whether that's through stairs, a ladder, or a lift.
Check with your local council to see if adding a mezzanine floor will complicate the approval process due to extra height (we can help with this!).
How Much Does it Cost to Add a Mezzanine Floor?
The cost of adding a mezzanine floor to your custom shed will depend on several factors, including:
Whether you build up or build out.
The size and engineering requirements of the mezzanine floor.
The extras you choose to include, such as lighting and access type.
The additional time and complexity for your shed build.
Even with these factors in mind, adding a mezzanine floor can be the dollar-for-dollar most cost effective way to dramatically increase your usable workspace.
Shed Mezzanine Floor FAQs
Do I need council approval to add a mezzanine floor to my shed?
Most sheds require council approval anyway, so adding a mezzanine floor won't dramatically change things there.
We understand that the council approval process can seem daunting, but we're here to help. We can provide you with the necessary information and documentation to make the process as smooth and stress-free as possible.
To make the council approval process easier for our customers, we provide detailed engineering plans and specifications as part of our custom shed design process. This documentation can be used to support your council application and ensure that your custom shed design is approved as quickly as possible.
Can I add a mezzanine floor later?
It's possible. There are a number of considerations including the size, location and engineering of your existing shed. It may also be more difficult and expensive than including it in your initial shed design.
How long does it take to install a mezzanine floor?
This will depend on the size and complexity of your mezzanine floor, as well as the experience of your builder.
When designing your shed with a mezzanine floor, it's important to consider the placement, size, and height of the floor, as well as the type of access you'll need (e.g. stairs, ladder, or lift). You'll also want to make sure that the floor is properly supported and that the weight of any stored items won't exceed the load capacity.
Will adding a mezzanine floor increase the value of my property?
Adding a mezzanine floor can increase the value of your home, as it adds usable space and functionality.
Can you help me build my shed and install my mezzanine floor?
Over the past 22 years we have custom designed, manufactured and successfully supplied more than 7,249 sheds.
While we don't have a building arm ourselves, we do have a large, national network of shed erectors and tradies who we can put you in touch with.
We're happy to help you choose a suitable builder. Thanks to our connections in the industry we are usually able to source one or more builders for you to contact for quotes.
What next? Schedule a Free Shed Design & Quote Session
It is best to discuss features like a mezzanine floor as early in the design process as possible, as they will have implications for other aspects of your custom shed's design, including height and engineering considerations.
Whether you're ready to purchase a shed or just doing some preliminary research, the next best step is to schedule a Free Shed Design & Quote Session. 
This is a one-on-one session where our Shedologists take the time to get to know what you want from your custom shed. They will answer questions you may not have even thought to ask and guide you in designing your perfect shed. At the end of the session, they will send you the price and plans to review with no cost or obligation.
You will discover more about sheds in 20 minutes than you would in weeks researching online, and you will leave with detailed plans for the exact shed you want – the exact size, features, finishes, and price.
Schedule a Free Design & Quote Session today to get started on designing your dream custom shed for no more than the cost of a stock standard alternative.