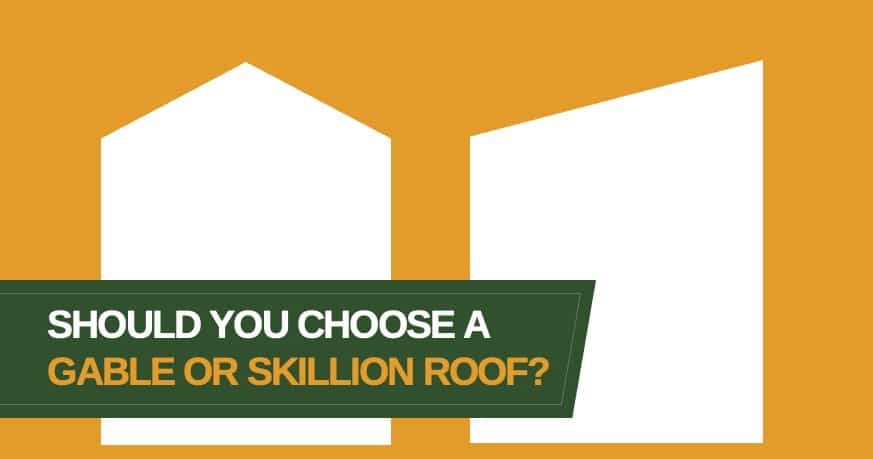 Understanding the nuances of Gable and Skillion Roofs for custom sheds
While some shed-buyers may have been led to believe that skillion roofs offer superior cost, features, and style, we're here to shed light on why gable roofs are often the optimal choice for your shed. In this article, we'll delve into the reasons behind our preference for gable roofs and address common misconceptions about skillion roofs.
Misconceptions About Skillion Roofs
Traditionally, skillion roofs gained popularity due to two perceived advantages: cost-effectiveness and water collection capabilities. It was commonly believed that skillion roofs were cheaper to construct and offered an efficient solution for harvesting rainwater. However, as you'll come to see, that's not necessarily true.
Gable Roof: Cost-efficiency & Strength
Contrary to popular belief, skillion roofs often incur higher costs than gable roofs. The reason for this lies in the structural requirements. A skillion roof's rafter needs to span the entire width of the building, making it necessary for the rafter to be considerably stronger.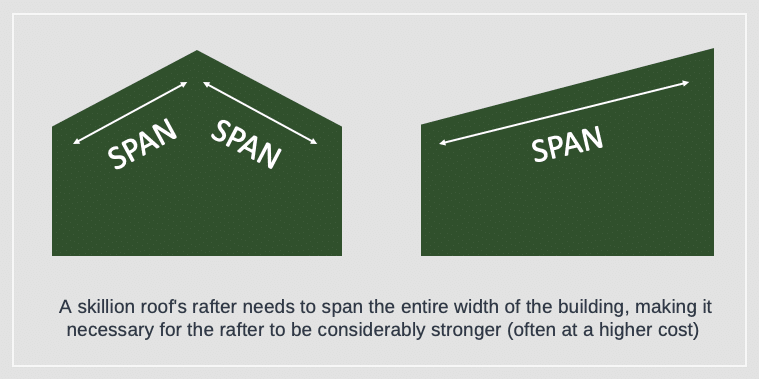 In contrast, a gable roof's rafters only need to span to the apex, which is halfway across the building. This fundamental difference results in increased material costs for skillion roofs, as larger and more robust rafters, and often columns, are required.
For larger sheds, the supposed savings associated with skillion roofs are often outweighed by these additional expenses, making gable roofs the more cost-effective option.
Debunking Rainwater Myths
While it's true that skillion roofs simplify the plumbing of rainwater to a single gutter, the reality is more complex. A skillion roof's gutter is tasked with handling the entire roof area, necessitating a larger gutter size and potentially multiple downpipes.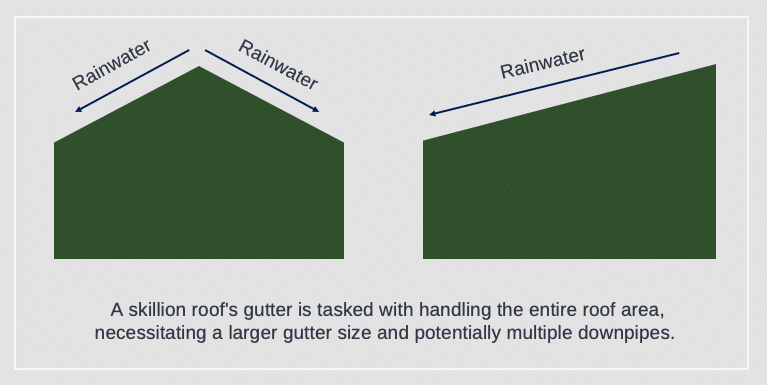 If not properly designed, a significant amount of rainwater can overflow from the gutter, resulting in wastage. In contrast, gable roofs offer double the gutter catchment area, which can make them more efficient at collecting and conserving rainwater, particularly during drought conditions.
Solar Panel Considerations
Skillion roofs are often touted as ideal for solar panel installations due to their uninterrupted roof space. However, this advantage comes with a weighty caveat.
If you plan to install numerous solar panels, it's essential to inform your shed supplier. The added weight of solar panels can quickly add up, and many standard shed designs, regardless of roof style, may not be engineered to support this extra load.
Moreover, the larger rafter spans required by skillion roofs to accommodate solar panels further compound the structural challenges, which can make gable roofs a more suitable choice for many installations.
Aesthetic and Practical Implications
Comparing Gable vs. Skillion Shed Height
A lesser-known aspect of shed design revolves around the measurement of shed heights. Gable roof shed heights are measured to the top of the side wall height, ensuring consistent internal heights throughout the shed. In contrast, skillion roof shed heights are measured to the top of the highest side, leading to a decrease in height as one moves further into the shed.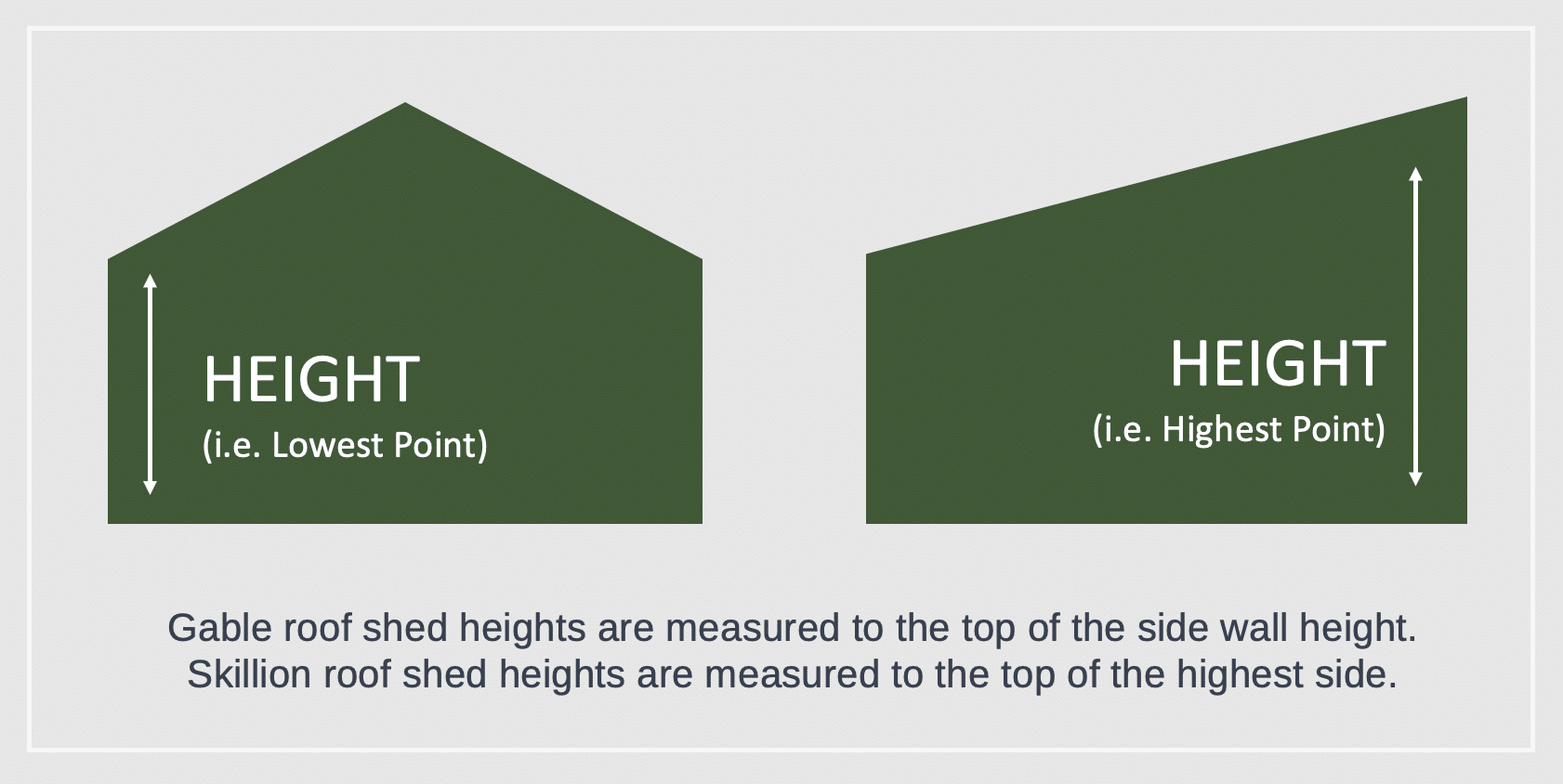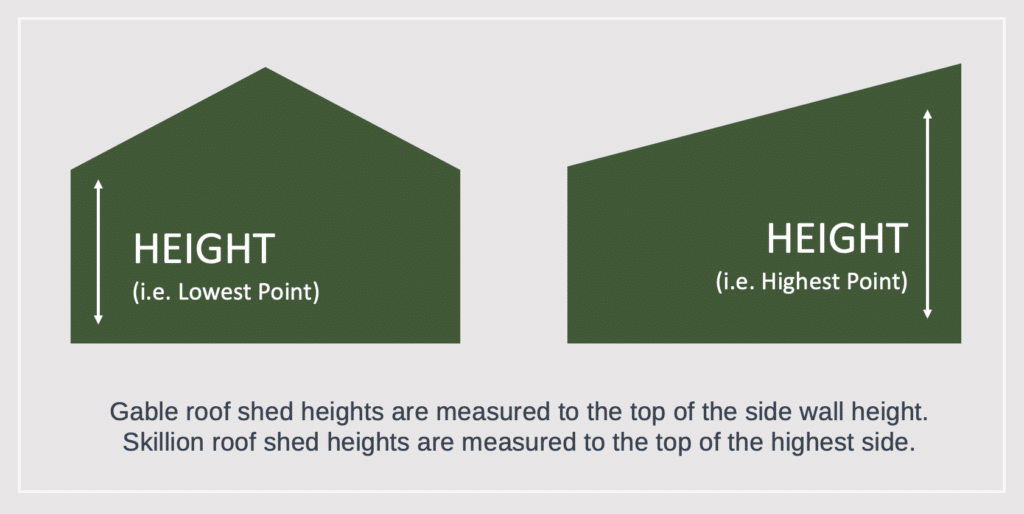 To make an accurate comparison, a skillion roof shed's height would need to be elevated to match the lowest point of a gable roof shed. However, this adjustment significantly increases the overall height and cost of the skillion roof shed.
Harmonising Shed & House Aesthetics
Skillion roof sheds may have gained prominence in recent years alongside contemporary housing trends, but their design principles differ significantly from those of residential structures.
While multi-roof-line houses with extensive eaves and overhangs create a cohesive and visually appealing look, skillion roof sheds often lack these design elements.
The assumption that a skillion-roofed house should have a skillion-roofed shed is flawed from the start. Instead, opting for a shed design that complements the house without attempting to mimic its style can result in a more harmonious and striking architectural ensemble.
In Conclusion
In the realm of shed roof designs, gable roofs reign supreme for a multitude of reasons.
While skillion roofs were historically favoured for their perceived advantages, a closer examination reveals that gable roofs can offer equal or superior cost-efficiency, rainwater collection capabilities, structural integrity for solar panel installations, and a more consistent internal height.
Having personally designed and built tens of thousands of sheds over the past decades, we personally believe that a gable-roof is the best and most appropriate option in most cases. That's why we exclusively design and manufacture gable-roofed sheds.
When considering a custom shed design, we strongly recommend opting for a gable roof to ensure a well-balanced, functional, and aesthetically pleasing addition to your property.
If you would like to design your own custom shed, the best place to start is to request a Free Shed Design & Quote Session.