Not All Carports Are the Same. Discover What Makes a Designer Sheds Carport Better Quality and Value
When you start looking at carports you may think they all look the same – a few steel posts, some Colourbond roofing, and a concrete pad.
But what you may not realise is that many carports are manufactured from cheap, imported steel, budget screws that are prone to rust, and only come in standard kit sizes that force you to compromise on what you really want.
Now there is a way to get the exact carport you want – the perfect size, design, and features to meet your needs for today and tomorrow. And a carport that is built to last – manufactured from premium, Australian components. All for around the same price as a standard kit carport. As with garden sheds, our carports are significantly dearer than a standard kit type product.
To get the carport you really want, arrange a Free Design & Quote Session today.
Or for more information get a copy of our Free Shed Design Guide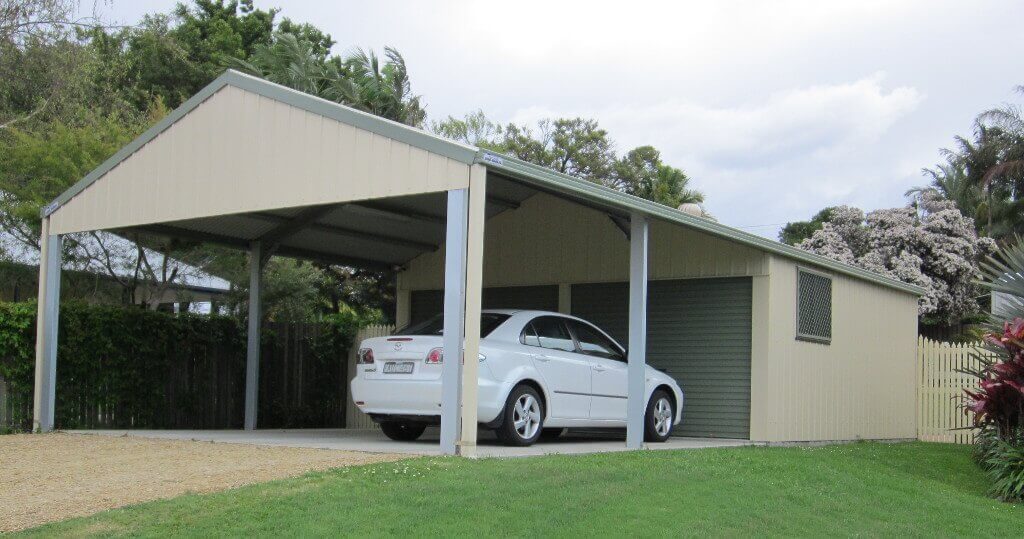 The Size Of Your Carport
Almost every shed company offers standard single, double and triple bay carports. Some offer extra bays, but usually at a steep price. But few offer custom sizes or design features to help you get the most from your carport.
For example, what if you want something bigger than a double carport – a little extra room for a cupboard or some tools — but don't have the land for 3 full bays? If only you could get 2 ½ bays. With a Designer Sheds carport, you can. In fact, you can get the exact size carport you want.
But Doesn't a Custom Size Carport Cost More?
With other companies it does, because they deal in standard kit sizes. And if you want something bigger, they have to charge you for an extra bay, and then cut it down to the size you want.
At Designer Sheds we do things differently. All our carports are designed and manufactured to order (they are not 'kits'). Every component is custom-cut for your carport. This means you only pay for the steel you need. If you want an extra metre in width, and an extra 200mm in height, you just pay for that small amount of extra steel (often just a few hundred dollars). So you get the exact carport you want without paying for any unnecessary components.
What Will You Use Your Carport For?
When designing a carport, it's important to consider both your current and future needs. Perhaps you want a carport to keep your boat or caravan out of the weather. Before deciding on the height of your carport, you may want to consider if you will ever upgrade your boat or caravan in the future. After all, it would be frustrating if your new boat or caravan was too tall for your carport, wouldn't it?
And what about your growing family? You may only have 2 cars now, but as your children grow and learn to drive, they will want somewhere to park their cars too.
How about storage? Do you have a canoe or kayak you would like to hang from the rafters? Well you will want to keep that in mind when choosing the height of your carport. What about some lockable storage cabinets and room for a workbench?
These are things your Shedologist will help you consider during your Free Design Session.
Your Carport Designed For Your Land
Another important consideration is where your carport will be positioned on your land. For example, depending on the direction of the sun, you may like to consider adding a full or half back or side to your carport to stop the damaging western sun weathering your boat or caravan every afternoon. Or you may like to add small quarter sides and back to give a little extra protection from rain.
What about the slope of your land and access from the road? What is the turning circle like, where will the water flow, will angle on the entrance to your carport cause your car to scrape.
Once again, your experienced Shedologist will help you consider these important design aspects during your Free Design Session.
No Longer An Ugly Duckling
Take a drive around your neighbourhood and you'll see that many carports look unappealing (a.k.a. ugly). An after-through – stuck on the side of a property, totally different to the home and surrounding buildings.
At Designer Sheds we take care to ensure your carport looks the part. In fact you choose from…
22 colours (to complement the roof on your home or surrounding buildings)
3 cladding profiles (that's the shape of the walls or partial walls)
2 gutter designs (to match the gutters on surrounding buildings)
5 roof pitches (to match the shape of the roof on your house)
And unlimited size options so you have all the room (and height) you need.
Built To Last In Australian Conditions
Aussie Steel: Your Designer Sheds Carport is made from premium BlueScope steel – tested in the laboratory for strength and consistency, and proven in carports and sheds around Australia for decades. While other carport companies compromise with cheaper, imported steel, we use Aussie steel, with a rock-solid local warranty.
Rust-resistant Screws: There's no doubt about it, carports cop a beating from the harsh Australian elements. No place on earth does the sun shine longer or hotter. And when we get an afternoon storm, it comes with hail and howling wind. One strong gust can strip cheap or rusty screws and un-roof a carport in seconds. That's why we choose to use rust-resistant Buildex screws. They're built to last.
Independent certification: While many shed and carport companies have in-house engineers who simply rubber-stamp their designs, we use independent engineers who specialise in cyclone conditions. Before a single piece of steel is cut, you can be sure your design has been scrutinised and certified to last.
And for your total peace of mind your Design Sheds carport comes with a…
Triple Guarantee
While other companies disguise their promises with fine print, our guarantees are simple.
Price: We guarantee to give you an exact fixed price for the design you choose and as long as you order within 14 days you won't pay a single dollar more to have that design manufactured and supplied to your property.
Design: We guarantee your carport will exactly match the design you've approved or we'll fix it or re-supply for free.
Supply: We guarantee that the Bill of Materials for your shed will be 100% correct for the shed you ordered. If we miss something out of the Bill of Materials or get a component wrong, we'll make it right straight away AND give you $500.  In addition, if any component is missing from the initial delivery due to a mistake in the shipping process, we guarantee everything will be delivered as soon as possible, at our cost.
So as you can see, there's more to choosing a carport than meets the eye.
And you no longer have to compromise with standard kit sizing.
You can have the exact carport you want –size, design, and features. A carport that is built to last – manufactured from premium, Australian components. All for around the same price as a standard kit carport.
For a firm price on the carport you want, contact a Designer Sheds Shedologist for a Free Design & Quote Session today.
Or for more helpful tips and design advice, download a copy of our Free Shed Design Guide